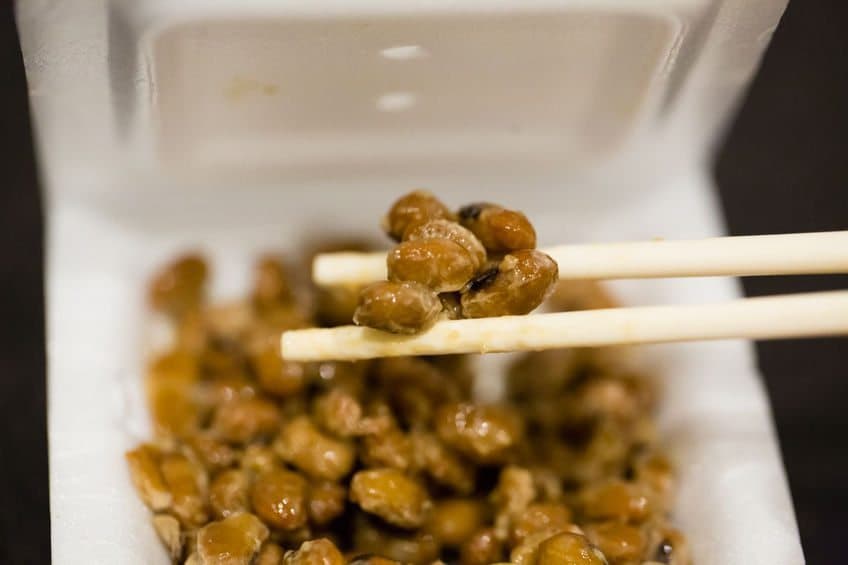 If you ask most guys about their blood pressure, they'll tell you it's under control.
They'll say, "It's fine. I took some pills, and everything's cool."
Actually there's a lot wrong with taking blood pressure pills.
There are really two things wrong.
Number one — blood pressure isn't a stand alone problem.
The same thing creating high blood pressure is creating health problems everywhere in your body.
All the pills are doing is covering up the health problem.
And number two — there are dangers to the pills.
These dangers are often hidden by the big Pharma companies.
These companies make billions selling blood pressure medication.
And they're not really worried about you.
For example, something called postural hypotension may be setting you up for a fall.
Every year, hundreds of thousands of people are taken unaware by this symptom.
They are sitting around, often in a meal.
And then they stand up — and they feel faint.
Sometimes they pass out.
Because so many doctors are so ignorant, the patient has just begun their torment.
They end up in the hospital.
In the hospital, they go through MRIs and tests.
Then the patient is diagnosed — the problem all along has been low blood pressure.
The low blood pressure was caused by their blood pressure medication.
What if the person is unfortunate enough to fall and break his head?
What if they break a hip and end up in the hospital later?
What if they die from these injuries?
Do you think the cause of death is going to be attributed to the blood pressure medication?
Of course not.
So it goes.
So if you can lower your blood pressure naturally, you really want to do it.
There are many things that you can do to lower your blood pressure naturally.
One thing to help may be to use something called extract of natto.
Also called nattokinase, this is easily available.
Nattokinase is an extract from soybeans that have been fermented.
The fermented soybeans are consumed for breakfast in Japan, and I believe in Korea.
And this breakfast is called natto.
Most Americans will find natto to be kind of smelly and, frankly a little disgusting.
Unless you're raised with it, natto is a little off-putting.
A little bit like Vegemite to an Australian.
But nattokinase has been studied and is used as a nutritional supplement.
And it's been used for a long time to lower blood pressure, so this study set out to see if it actually works.
So today's study is going to present a very elegantly done, simple study.
The study shows how you can lower your blood pressure substantially without taking blood pressure medication.

They assigned about 40 people, ages between 20 and 80, to two groups.
They were assigned either a nattokinase group or a control group.
Neither the research subjects or the investigators knew who was in either group.
This is a great practice, and often not followed, although it should be.
It's called double-blind.
So nobody, including the researchers, knew who is getting what.
They had not idea who was getting the nattokinase, and who was getting the placebo.
And the researchers followed these people over eight weeks.
This is one of the shortcomings of these types of studies.
The shortcomings are that they're very short-term.
It's difficult to be sure what the long-term effects of something will be in just eight weeks.
It would've been nice if the study had been done for a year or longer.
But we have to take what we can get.
Blood pressure fell in the people taking nattokinase.
The end results for blood pressure don't show a huge difference between the two groups.
It was maybe five points different.
But if the study had been done longer, I feel that the blood pressure would have continued improving.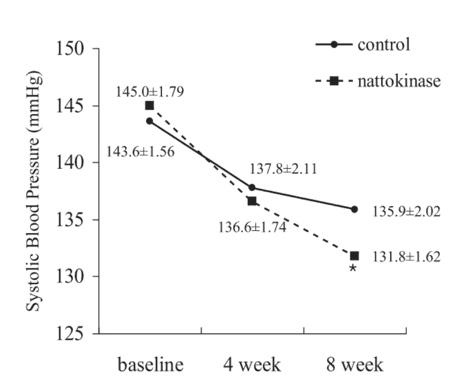 The diastolic numbers fell by a similar amount.
So the result is that nattokinase is one of the foods that does indeed lower blood pressure.
Are there any downsides to nattokinase?
There haven't been any negative effects found to taking nattokinase.
We do know that nattokinase lowers blood pressure.
And it's been known for a long time that it helps dissolve blood clots.
So you may want to talk to your doctor about nattokinase.
Especially if you're taking blood thinners, or are being treated for any kind of cardiac issue.
But if your blood pressure isn't terribly high and you would like to lower it naturally, you might want to try nattokinase.
At least we know that it works.
It is not like it will put you in the hospital for losing consciousness when you stand up.
Citations
Effects of Nattokinase on Blood Pressure:
A Randomized, Controlled Trial
https://www.researchgate.net/profile/Yangsoo_Jang/publication/23439158_Effects_of_Nattokinase_on_Blood_Pressure_A_Randomized_Controlled_Trial/links/00b4953cd9439b63b5000000.pdf
Click for more information on https://www.dailymedicaldiscoveries.com/clomiphene-for-women/, for information on natural remedies, or for more on how Nattokinase effects on Blood Pressure.