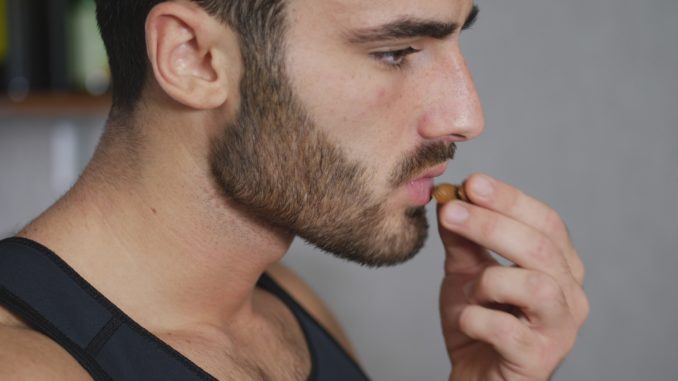 And what you can do to treat it naturally at home
—-Important Message—-
Men who aren't experiencing the joys of "stiffies" all the time: is your liver causing the problem?
Many men have bogged down their livers…and this causes LOW TESTOSTERONE and LOW performance…

Because a fatty liver causes toxins to build up in the bloodstream. 
The toxins injure the delicate testosterone-producing Leydig cells in the testicles.
And they even reach the brain and may cause Alzheimer's.
You have a fatty liver IF you have stubborn belly fat. 
A belly and a fatty liver go together — because the liver is the largest organ in the body, and it becomes even bigger and gets inflamed — which shows up as a belly.
Fortunately, I discovered a simple protocol that cleans your liver and lets your testosterone levels rise… 
———-
How to know if you have a fatty liver
Fatty liver disease is a growing problem worldwide.
People with type 2 diabetes or obesity have a high risk of developing fatty liver disease.
The extra fat deposits in the liver cause scar-like damage to the organ.
The initial stages of fatty liver disease are relatively harmless. 
But progression of fatty liver disease can lead to severe problems – including cancer and death.
Progressing to more serious forms of liver disease is a major cause for concern.
One in four people have early-stage fatty liver disease. 
For people with obesity, that figure rises to four out of five people.
There are no official treatments for fatty liver disease. 
But a number of studies have shown that some vitamins offer protection.

These researchers did human research at the School of Public Health, University of Haifa in Israel. The Journal of Digestive and Liver Disease published the results. 
Researchers believe that antioxidant nutrients can protect people against non-alcoholic fatty liver disease (NAFLD) and the more advanced non-alcoholic steatohepatitis (NASH).
Vitamin E and vitamin C are two of the most common dietary antioxidants.
So the researchers looked at the relationship between vitamin E and vitamin C intake and liver health.
"The aim was to test the association between dietary vitamins E and C intake and NAFLD, NASH, and fibrosis markers."
Over 700 participants were included in the research. 
The participants completed detailed questionnaires and the researchers analyzed those for dietary vitamin intake.
"Nutritional intake was measured by a food frequency questionnaire."
The participants also underwent standardized tests for non-alcoholic fatty liver disease and steatohepatitis.
"The presence of NAFLD was evaluated by ultrasound. The level of steatosis was defined using SteatoTest."
The results showed that people consuming the most vitamin E had a significantly lower risk of developing the more advanced fatty liver problems (NASH).
In fact, 36% lower (after adjusting for other relevant factors).
"The upper tertile of vitamin E intake/1000 Kcal was associated with lower odds of NASH…"
People who consumed the daily recommended intake of vitamin E were about half as likely to develop NASH, compared with those who did not get enough vitamin E at all.
"There was an inverse association between reaching the recommended vitamin E intake and NASH…"
People who consumed the most vitamin C also had a lower risk of non-alcoholic fatty liver disease and NASH.
"The upper tertile of vitamin C was associated with lower odds of NAFLD…and NASH…"
This analysis of dietary intake indicates that these two vitamins could lower the risk of fatty liver disease progression.
"Vitamin E and C intake may be protective from NAFLD-related liver damage."
The research is supported by previous experiments using supplements of these vitamins.

This includes a human trial that was carried out at the Ege University Medical School, Izmir, Turkey. The Turkish Journal of Gastroenterology published the results.
The study looked at the effect of vitamins E and C supplementation in people with fatty liver disease and elevated liver enzymes.
The vitamin supplements were compared against another treatment for fatty liver disease called ursodeoxycholic acid.
"The patients were randomly prescribed either oral vitamin E (600 IU/day) plus vitamin C (500 mg/day) or ursodeoxycholic acid (10 mg/kg/day)."
In this study, liver enzymes returned to normal in 63% of the patients given vitamin E and vitamin C supplements.
"Alanine aminotransferase decreased to normal levels in 17 of 27 people in the vitamin E and C combination group."
The research concluded that supplementing these two vitamins can be a useful treatment for people with fatty liver disease.
"Vitamin E plus C combination treatment is a safe, inexpensive and effective treatment option in patients with fatty liver disease."
You should always consult a healthcare practitioner about diagnosing and treating any health-related problems.
—-Important Message for Men Supplementing with Vitamin C—-
Use Super C —  a new, completely natural type of vitamin C that stays in the bloodstream for HOURS not minutes
A type of vitamin C that is fat soluble.
And this is important because water soluble vitamins go right through you.
But fat soluble vitamins stay around, penetrate the tissues, the brain, the nervous system, and deliver their goodness over hours or even days.
A type of vitamin C with all the benefits of regular C, but that would hang around the body and not just get peed out.
I call this new type of vitamin C Super C, and it has two distinct parts: vitamin C, and a special fat that allows it to penetrate the body better and stay there for longer.
It's fully natural and 100% safe.
It's just a much more potent kind of vitamin C that will help you add decades to your life.
Here's how to get Super C today for free
———-