So you know that I am not a big fan of taking Big Pharma drugs. A dose of antibiotics if absolutely necessary – sure. But the ongoing, never-ending life-altering types of drugs? Not so much.
Because they are freaking scary. The side effects can be absolutely insane. I greatly prefer to find natural remedies and even more importantly the base causes of illness. It's just a way better way to stay healthy.
And it happens that I'm not crazy – even though sometimes Jodi swears that maybe I am just a teeny tiny bit crazy.
The FDA just put out a warning about a drug called Canagliflozin. Turns out that it has one of the worst side effects I've ever heard of. An increased risk of leg and foot amputations.

The agency's decision is based on data from two large clinical trials showing that leg and foot amputations occurred about twice as often in patients taking canagliflozin as among those taking a placebo.
Holy crap! Amputations are twice as often as the placebo.
People taking canagliflozin are getting foot and leg amputations more often than from just diabetes alone.
And I thought drugs were supposed to help!
(Note: I never recommend going off of prescriptions without talking to a doctor first – I'm not a doc, I'm a researcher)
Here are the trials:


And this one:


But this is the thing that makes my jaw drop to the ground.
This recommendation by the FDA for people taking Canagliflozin:
Patients taking canagliflozin should notify your health care professionals right away if you develop new pain or tenderness, sores or ulcers, or infections in your legs or feet.
The Feds want you to keep taking a drug that has a higher risk of amputation then diabetes and just let your doc know if you have pain or sores in your legs.
If you'd like to know how to reverse diabetes without these horrific side effects click here.
I couldn't be more upset about this, and these awful drugs with the terrible side effects.
And the docs really just don't know any better. Because the Big Pharma companies are in charge of their educations. So they only know to prescribe. But before you let them prescribe any of the following: Canagliflozin Invokana, Invokamet, Invokamet XR. (It's known by several names) – make sure you check your research first. I would hate to see you with an amputation.
This is especially frustrating when there are ways to control Type 2 diabetes without medications or with far fewer and less dangerous medications – always check with your doc on the meds before you go off of anything.
It all comes down to what causes diabetes.
Diabetes is caused by fat.
I know this seems completely crazy, because everyone thinks it's caused by sugar. But it's true.
Diabetes is a metabolic disease that is caused primarily by free floating fat in your blood stream.
This type of fat called free fatty acids produces nearly instant insulin resistance. And it can just get worse with time.
And there are a lot of new studies showing that free fatty acids actually cause diabetes.
In a study of people who had bariatric surgery, they found that the lowered blood fat because the fat wasn't absorbed made their diabetes disappear, even if they gained weight back.
THE DISAPPEARANCE OF DIABETES WITHIN 3 MONTHS IN A NORMAL WEIGHT YOUNG FEMALE, WHO DID NOT LOSE WEIGHT AFTER THE OPERATION, CONFIRMS THAT THE FAT MALABSORPTION AND THE LOWER PLASMA LEVELS OF FATS, RATHER THAN THE WEIGHT LOSS, CAUSE THE REVERSIBILITY OF THE INSULIN RESISTANCE CONDITION.
So if you want to get rid of diabetes and avoid the risks of some of these medicines that "treat" the disease but leave you with a possible amputation, then you need to get rid of the fatty acids in your blood.
But how the heck do you do that without bariatric surgery.
Reduce the amount of fat you eat to help reverse diabetes
Blood fat is directly related to the amount of fat in your diet. So cut back the fat and the blood fat goes down. And your risk of diabetes goes down, even if you already have it.
I'm a bit like a dog with a bone when it comes to good health without drugs that have massive negative side-effects (you know like amputation) – so if you want to get more tips and tricks and keep up on the latest make sure you check out our newsletter. It's packed with health goodness.
And if your doctor wants to put you on Canagliflozin Invokana, Invokamet, or Invokamet XR make sure you are doing your own research first and ask for other options. Otherwise you are risking an amputation.
---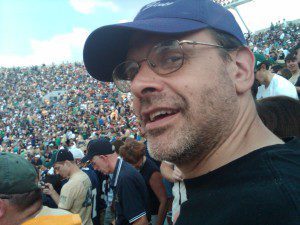 Matt Cook is editor-in-chief of Daily Medical Discoveries. Matt has been a full time health researcher for 26 years.
ABC News interviewed Matt
on sexual health issues not long ago. Matt is widely quoted on over 1,000,000 websites. He has over 300,000 daily newsletter readers. Daily Medical Discoveries finds hidden, buried or ignored medical studies through the lens of 100 years of proven science. Matt heads up the editorial team of scientists and health researchers. Each discovery is based upon primary studies from peer reviewed science sources following the Daily Medical Discoveries 7 Step Process to ensure accuracy.
Safety of Canagliflozin:
https://www.fda.gov/Drugs/DrugSafety/ucm557507.htm